Ridge Landing Airpark sits near Frostproof, Florida about an hour's drive from both Tampa and Orlando. It consists of 99 sites, running from 1 to 2 acres each, with grass taxiways and a 3000 foot long by 60 foot wide paved runway. It is a gated community and is unique in the fact that an attempt has been made to separate airplane and ground vehicle traffic. communities allow the aircraft and cars to share the same taxiways working out a right-of-way system as needed. This generally works well but it could be argued that there is an advantage to separating the two functions. At Ridge Landing they have worked this out.
It is a well-planned community with covenants requiring that the hangers and homes be of the same material to maintain the look and feel of the nice residential neighborhood. Home sizes must be a minimum of 2500 ft.² with 3000 ft.² minimum under roof.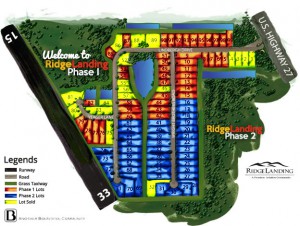 Ridge Landing not only serves as a residential community but also supports general aviation by offering flight lessons,  airplane rentals and even rentals and vacation property. For those who have an interest in flying to Florida in their airplane and parking it in a vacation home and then taking in many of the Florida attractions, this can be an excellent opportunity.
The property is near Crooked Lake which serves as an excellent platform for amphibious aircraft. There's even a small one bedroom, one bath cottage on the lake with storage facilities for airplanes and floats.
They have an excellent website you can visit at www.ridgelandingairpark.com. For questions on the phone you can reach them at 800-701-0781 extension 8000.
From my perspective this appears to be an extremely well-planned and well executed community which is actively promoting its own existence and functions which, I believe, helps lend to an active and exuberant community. The aviation lifestyle of living in an airpark community is not only unique in the fact that pilots can live with their airplanes, but is unique in the camaraderie and the friendship that develops among the entire group of residents. Before moving to my own residential community I lived in many neighborhoods. All of them pale, when it comes to community spirit and community activities, to those factors that one will experience living in a fly in community.
If you are looking for a place to share residence with your airplane and want to be in Florida, you should take a look at Ridge Landing.