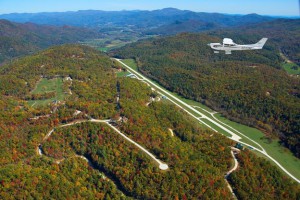 Aerial fall splendor at Heaven's Landing
If you like the Mountains in northeast Georgia and are an aviation enthusiast, possibly one of the best marriages of those two inclinations is found at Heavens Landing.  Located just 3.5 miles northwest of the city of Clayton, Georgia, this "Heavenly" fly in community is considered by many to be one of the most unique and beautiful mountain estate airparks in the world.  Through all phases, Heaven's Landing will consist of 400 plus estate sized lots averaging 1.5 acres in size.  Taxiway lots are readily available, as are beautiful mountain vista lots that can be paired with a private hangar on the airfield.   This gated community consists of 635 total acres that are surrounded by U.S. National Forest Land, yet conveniently located just a 7 minute drive from downtown Clayton Georgia.  There one can find all of the conveniences of big city living without the crime, traffic or hassles that are associated with metropolitan living.  The City of Clayton boasts great shopping, numerous elegant  restaurants, and abundant recreational opportunities.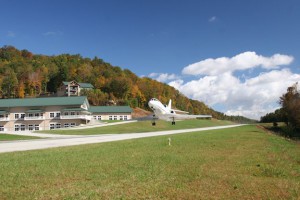 Country Music's Alan Jackson, an owner at Heaven's Landing departs  in his Falcon 50
The paved concrete runway at Heaven's Landing is 5069 feet long and will accommodate any aircraft from light sports to corporate jets.  The runway also has pilot controlled lighting and a private GPS approach to runway 23.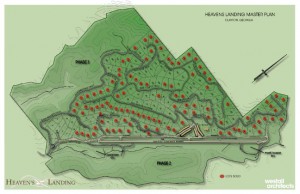 Plat of Heaven's Landing
Owners at Heaven's Landing have the option of purchasing property along the taxiway and building a traditional hangar home, or they can purchase on higher ground with a mountain vista and pair it with a privately owned hangar unit centrally located in a field side condominium hangar complex.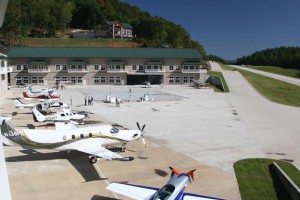 Unique Two Storied Hangars at Heaven's Landing
To maintain community standards there are strict architectural guidelines to assure that the elegance of the community is maintained.  All designs must be reviewed and approved prior to construction. The minimum size of the heated area must be at least is 2000 Sq. Ft., exclusive of porches, garages and hangars.  The first floor must be at least 1500 Sq. Ft. which will assure an aesthetic balance.  Exterior finishes are specified and any wood trim materials must be painted and not allowed to whether.  Roofing must consist of either architectural shingles, metal, concrete tiles or slate.  Consistency of detailing on all elevations is required.  Windows require shutters or colonial styled grids, and should be wood.  Vinyl or aluminum clad windows will be considered as long as they have the outward appearance that looks similar to wood.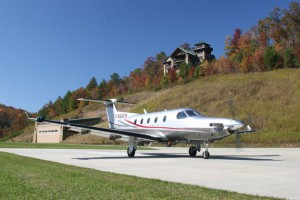 The perfect combination of architecture and aviation!
Covenants such as these can seem daunting at first, but when one creates a setting as grand as this, it is in the collective best interest of all concerned that high quality standards be maintained.  Once you are living in Heaven's Landing, one rarely regrets the decision.  Architectural guidelines and Restrictive Covenants insure that quality and value will never waiver.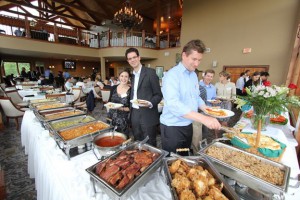 The Community Clubhouse at Heaven's Landing
Heavens Landing also has a community clubhouse. The facility consists of three stories and 13,000 Sq. Ft. that contain a private lounge, dining room and fitness center with indoor racquet ball, steam and sauna.  A large swimming pool and Jacuzzi are planned which will overlook the runway.  The clubhouse is available to all of its owners on a daily basis for no additional fee.  There are also hundreds of miles of trails on the surrounding Chattahoochee National Forest for hiking, horseback riding, four wheeling and cycling.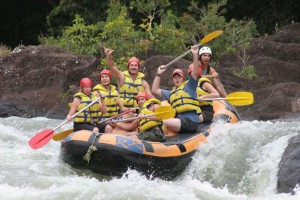 Whitewater Rafting on the Chattooga River (6 miles SE of Heaven's Landing)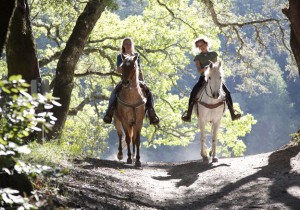 Trail Riding in the Chattahoochee National Forest surrounding Heaven's Landing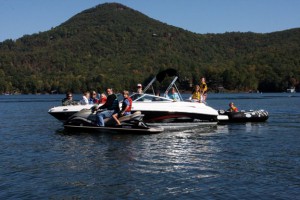 Water Sports on nearby Lake Burton (3.5 miles SW of Heaven's Landing)
From my perspective, Heaven's Landing is one of the most beautiful fly-in communities in the country.  It is centrally located in an area that I personally would love to live in.  The year round climate is very mild, with just a touch of all four seasons.  Located right across the border from both North and South Carolina, Heaven's Landing resides at an elevation ranging from 2,700 to 3,200 feet MSL, making it  high enough to be cool in the summer, yet far enough south so as not to be too cold in the winter.  Heaven's Landing is also very close to Black Rock Mountain, Lake Burton, and the Chattooga River which are all highly desirable recreational options.  I have personally  hiked throughout the area many times, and absolutely love it!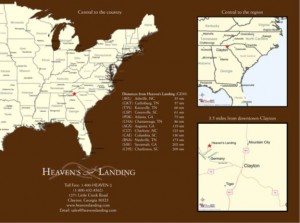 My key point here is this:  The developers of Heaven's Landing have gone over the top with the construction of their facilities, to create a world class fly-in community.  There truly is nothing else like it!  They have done so in an area that is already amazingly beautiful in and of itself.  The community clubhouse, the excellent runway, the unique two storied hangars, the architectural guidelines, and the obvious sense of community which can be easily observed in the monthly newsletter, are all just a bonus to an already gorgeous area.  Aviation communities offer a life style and camaraderie that is difficult to find anywhere else.  Heaven's Landing is the perfect marriage of a beautiful setting and that magical environment created only in an aviation community.  It is that common interest in flying that ties all souls together, and I know of no better place than this.
If you love the Eastern Mountains of the United States, I strongly suggest that you take a look at the Heaven's Landing website at www.HeavensLanding.com.  I promise that you won't be disappointed!