Hidden Valley Airpark is located just north of the Dallas-Fort Worth area in northern Texas. It sports a 2650' x 35' asphalt runway and has a 500 foot overrun on the south and. The CTAF  is 122.9 and this frequency also acts as the switch to turn on the runway lighting. In case of IFR weather the airport is only 8 miles West- Northwest of the Denton municipal Airport which has a full IFR landing system.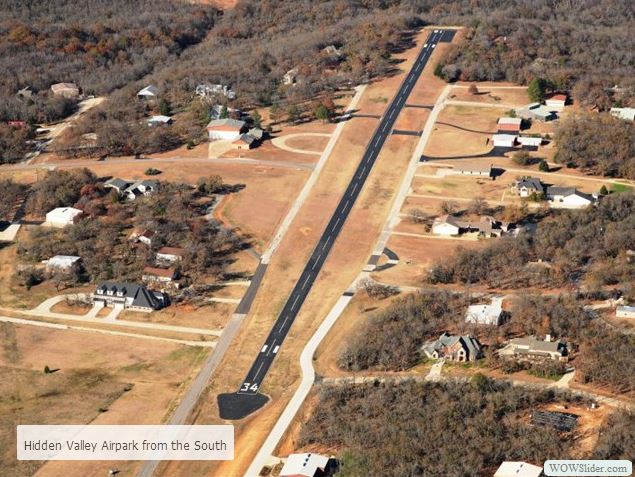 The community has 125+ sites of which, as of this writing in early 2014, 17 are currently available for sale. It is a gated community with over 100 acres of common area. It's 25 minutes north of the Dallas Fort Worth airport in near Denton Texas. This community is actually in the town of Shady Shores and given its  country location has property taxes lower than surrounding cities. It's near restaurants and shopping and within 2 miles of a 27,000 acre lake called Lake Lewisville.
All lots are one acre plus and many have trees. The neighborhood has been here for about 40 years and has construction dating from as recently as one year ago. For those with horses, there is a 25 acre horse pasture and a set of stables on the property.
As is common in many many flying communities, the airplanes and cars share the same roads/taxiways. This is easy to manage with a simple rule that airplanes always have right-of-way. The runway is centrally located to the neighborhood and is buffered from the various homes.
I have looked at many of the homes in the area and can tell you that this is a neighborhood of diverse architecture which is a definite plus point for any looking to get away from the typical boxy homes. Homes range in style from stone two-story, to contemporary, to very simple one-story structures. According to their website, hangers may be on the property with the home or may be placed in common areas.
This community has been around since 1965 – one of the the more mature communities of its kind in the county. It began with a 600 foot above sea level grass strip which was used by an individual in his aerial photography business. Since then, the neighborhood has grown to some 90 families and only 2 of the original founders are still associated with the property. While starting out with approximately 10 acres today there are over 300 acres that are owned by the Hidden Valley Airpark Association.
All in all, this is an excellent community which has  matured into a well designed, well managed Airpark. It is uniquely located near the fast-paced metropolis of Dallas-Fort Worth but is far enough away to have the advantages of a small town.
Fly-in communities are unique, when compared with any other kinds of neighborhoods in the country, with a shared camaraderie and a shared love for a single passion of aviation. Even the most divergent set of people find common ground and common interests and friendship aligned around this common interest.
If you are considering where to set up house with your airplane, you should check out Hidden Valley. Their website is  www.hiddenvalleyairpark.org.