Located in North West Michigan, Torchport Airpark is a northern climate community located in one of the most beautiful regions of Michigan. It is tucked between Torch Lake and Lake Michigan and surrounded by hundreds of acres of beautiful forests.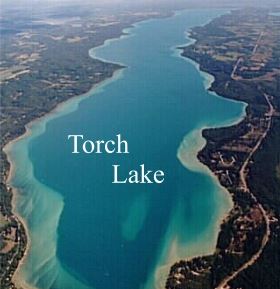 It is near Charlevoix and Traverse City on US 31. It is near clean lakes, at least four golf courses, excellent health facilities, sandy beaches of Lake Michigan, boat launch sites for those who love to float as much they do aviation, and, of course, near many areas rich in northern sports such as cross country skiing, snowboarding in overland hiking with snowshoes.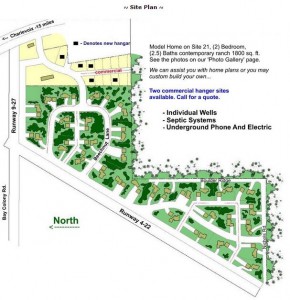 The ownership has been set up in such a way that if you live and own a site in the area you will never lose the right to use and manage the runway. This is an important feature to consider with any airpark in that some are using a barrowed runway with rights that can be gone with the wind. Not so at Touchport.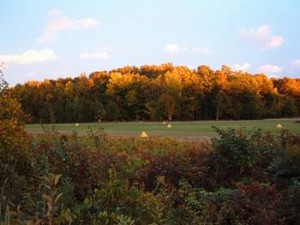 Typical homesites run 1 acre. Homes can be either attached or detached from the hangar. Homes must have a minimum of at least 1400 ft.² on the main floor, exclusive of decks, porches, garages and hangars. Garages must be built and have a minimum of 576 ft.². Buildings which are built as separate structures must conform with each other in terms of quality and materials. Such restrictions are important to maintain a minimum standard of quality and folks never regret living in the community with standards such as these. All utilities are underground. Wells and septic tanks need to be placed on each site for each project.
There are two runways, one 9/27 and the other 4/22. 9/27 is 3300 feet long by 100 feet wide and 4/22 is 2600 feet long by 100 feet wide. The CTAF is 122.9.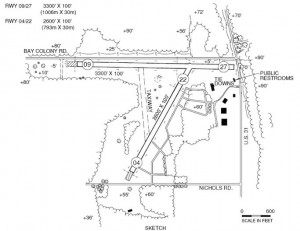 If you love the north, there is no better place than northern Michigan.
Click here to learn more.